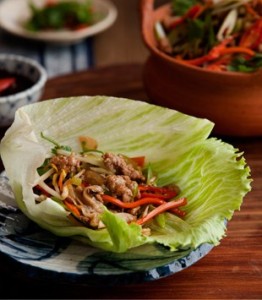 Always a winner and makes for one of the easiest of meals to prepare, this San choi bao recipe from karenmartini.com was passed on by a JS-PT client and was immediately a big hit. Try this for your next home cooked meal, or adjust to suit your own tastes.
______
Ingredients
1 iceberg lettuce (choose a nice heavy one)
2 medium carrots, peeled
4 tablespoons vegetable oil
10cm ginger, julienned
4 cloves garlic, finely sliced
350 grams fatty, finely ground pork mince
1/2 red onion, sliced
3 stalks celery, finely diced
10 fresh shitake mushrooms, finely sliced
1 tablespoon sugar
2 tablespoons light soy
3 tablespoons oyster sauce
1 teaspoon sesame oil
3 tablespoons Shao Hsing rice wine
2 teaspoons cornflour mixed with 2 teaspoons water
2 cups bean sprouts
10 snowpeas, julienned
6 spring onions, finely sliced on the angle
2 large red chillies, cut on the angle
2 generous handfuls coriander sprigs
hoisin sauce, to serve
Method
Before you do anything else, trim the lettuce to create cups and soak the lettuce cups in cold water in the fridge to ensure the crispest leaves.
Next, follow my tip for perfect julienne carrots. Peel them with a vegetable peeler into long strips then cut the strips in half lengthways and finely slice. Set aside.
Heat wok over high heat. Add oil, ginger and garlic, cook for 20 seconds, then add the mince.
Break it up as it fries for 1minute, then add onion and celery.
Cook for 30 seconds then add the carrots and mushroom, then the sugar, soy, oyster sauce, sesame oil and rice wine.
Cook for 30 seconds, then add the cornflour mixture, cook for another 30 seconds, then add the sprouts, snowpeas, half the spring onion, half the chilli and half the coriander.
Pile it into a bowl and garnish with the rest of the spring onion, chilli and coriander.
Serve with the well-drained lettuce cups and serve immediately with hoisin sauce.