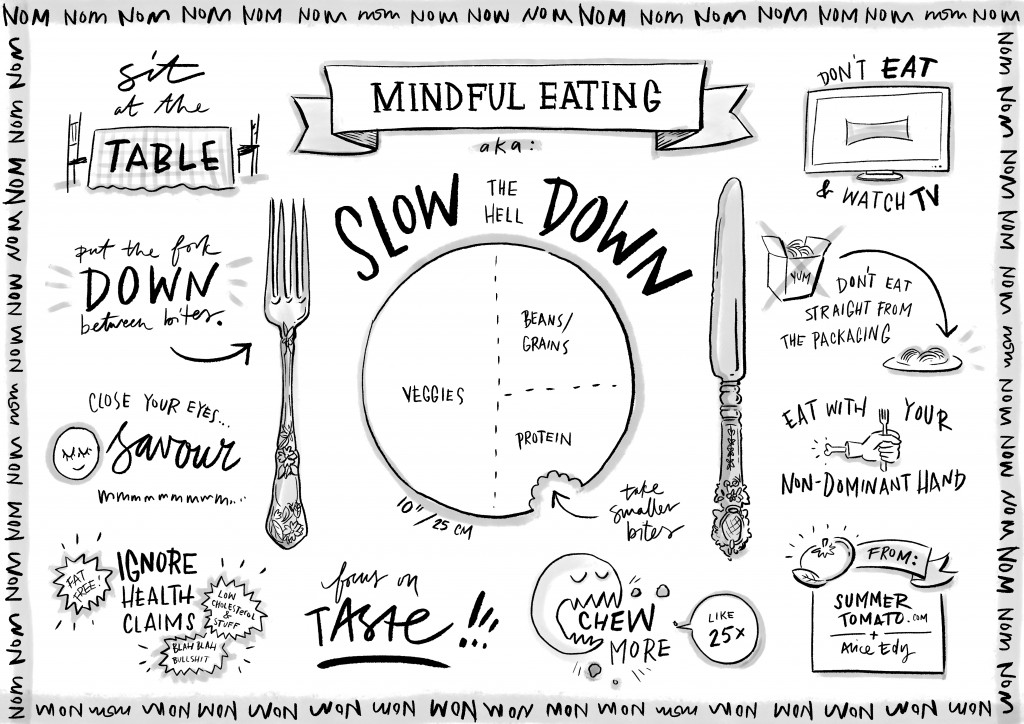 Mindful Eating – I'm sure you've heard the term, but do you feel like you've really grasped the concept? These days the term 'Mindful Eating' has somehow found its way into diet and weight loss programs around the world. Yet using mindful eating as as weight loss tool actually goes against what the practice of what mindful eating is truly about. Let's break this down.
So what is Mindfulness?
Mindfulness is all about deliberately paying attention, non – judgmentally to your thoughts, emotions and physical sensations in the present moment. It'is purpose is to help free yourself of reactive, habitual patterns of thinking, feeling and acting. It is about balance, choice, wisdom and acceptance of what is.
Ok, so how does Mindful Eating fit in?  
Mindful eating involves the act of non-judgmentally acknowledging your hunger and fullness cues to guide your decisions of when to begin and finish eating foods, and eating with awareness of all of your senses – sight, sound, touch, taste and smell.  It helps to develop non-judgemental responses to food (likes, dislikes, neutral) while allowing yourself to become aware of the positive and nurturing opportunities available through food selection and preparation.  It is a tool to learn which foods will best satisfy your hunger.
Why is it not for weight loss?
As you can see, the core purpose of mindful eating is to eat without judgement guided by your internal hunger and fullness cues. Practicing mindful eating with the intention to lose weight means that you are entering the eating occasion with expectation and judgement – to lose weight. If those expectations aren't met, generally feelings of failure arise – which more often than not lead back to partaking in another behaviour for weight loss – which is a classic example of the diet cycle.
So how can Mindful eating help?
Eating is a behaviour and behaviour change is hard! You can follow a meal plan or pay someone to dictate to you what to eat until they are blue in the face, but at the end of day you have to learn to eat for YOU. Improving your eating behaviours is not about weighing less for a moment in time, but about learning to eat well for the rest of your life. Mindful eating can assist this in this in a number of ways:
• Reconnecting with internal physical hunger and fullness cues: We were all born with the ability to regulate our hunger and fullness internally, but as we get older and life gets busier these cues get interrupted by our environment (i.e. increased stress, working shift work, designated eating times, being preoccupied with work,). By bringing awareness to your body's sensations around hunger and fullness, mindful eating can help you reconnect with this innate ability we are all born with.
• Reduce Non – Hungry Eating: As natural cues to hunger and fullness are explored mindful eating can help you to identify any instances of non hungry eating (i.e. eating because you are bored, stressed, depressed, lonely, procrastinating or just because it is there). Recognising these occasions  is the first step to behaviour change and allows you to explore other remedies for non-hungry eating than food.
• Reduce Overeating: Awareness during eating is also key to mindfulness practice. Combined with hunger-fullness awareness this allows us to notice when a food ceases to be as palatable or as enjoyable, helping to determine when satisfaction has been reached. This is called the 'Law of Diminishing Pleasure'.
• Increase confidence around foods we feel powerless around: We all have them, those foods that we don't keep in the house because we don't trust ourselves around them. Avoidance is a short term solution but long term it's important to feel confident that you can be around certain foods without going crazy. When eating for 'pleasure' over 'fuel' – which is totally ok to do, practicing mindful eating can help us to determine when our pleasure/sensory needs have been fulfilled. For example you may buy a chocolate bar because you genuinely feel like it – in the past you might eat the whole bar because it is there, using mindful eating you may find that just half the bar satisfies you – or you may not! Only you can determine this.
How can I be a more a mindful eater? Here are 5 ways you can start with now:
Write a definition of your hunger as if you were to put it in a dictionary-  i.e. I feel… an empty feeling, gnawing and… fatigued, moody.
Keep a hunger diary- Note down times you get hungry and any relevant circumstances around your hunger. Are you hungrier on days you exercise? Or perhaps days you have a larger workload? Less hungry on days you are stressed? Identifying patterns can help you to pack, prepare and choose foods that are more likely to satisfy your hunger.
Give your hunger and fullness a score / 10- this is best practiced around meals you feel your overeat at (See scale below). Try to identify how much you need to stay in the comfort zone (i.e not getting so hungry you bite someone's head off, and not getting so full that you feel unwell).
Eat without distractions- Turn off the TV and put down the phone. Save your attention for the eating experience!
Be curious with food, even if you have had it a million times- Before taking the first bite, ask yourself; What is the colour, texture and shape of your food like? Does it feel warm, cold or neutral? What does it smell like? Does it smell as you expected? Do different parts of it look, feel or smell different? Take a bite, but don't chew yet! Is it cold, warm or hot on your tongue? How does the texture feel? Is it soft, smooth, dry or hard? Is it a combination? Chew slowly…How does it taste? Is is sweet, salty, or a mixture of both? Does the texture change as you chew? Does the flavour change as you chew? How does it feel on your tongue as you move it around your mouth? Now swallow…Has the taste changed again? Are there bits in your teeth? What is the aftertaste like? How is it similar or different from your first chew? Do you need more or are you satisfied?
I hope you enjoy these tips on mindful eating and remember – mindful eating is about eating without judgement and is a skill that takes practice. Start small – if you can only practise mindfulness at one meal this week that's ok, be patient with yourself – remember behaviour change is hard.
For more on mindful eating, why not visit the Centre for Mindful Eating at www.tcme.org
Serena Sullivan
I: @gathernutrition
F: Gather Nutrition and Dietetics
W: www.gathernutritionaustralia.com