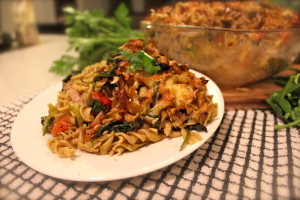 Who doesn't love pasta?
Using wholemeal pasta for extra fibre (more than double fibre content of normal pasta), we combined basil flavoured tuna with a bunch of vegetables to make this. Pasta is more calorie dense than other foods and is often vilified, but eaten in a sensible serving is completely fine.
May have included a couple of Tim Tams for dessert… 😉
—
Ingredients:
500g wholemeal pasta
2 teaspoons olive oil
4 stalks of spring onions, finely chopped
2 garlic cloves, crushed
2 sticks celery, finely chopped
250g cherry tomatoes, halved
120g baby spinach
1/4 cup basil pesto
4 95g cans of Sirena Basil Infused Tuna 
grated light mozzarella cheese to coat
Method:
1. Preheat oven to 180°C. Cook pasta in a large saucepan of boiling, salted water, following packet directions, until tender. Drain.
2. Heat oil in a large frying pan over medium heat. Add onions, garlic and celery. Cook, stirring, for 2 minutes or until onion is soft. Add tomatoes. Cook for 2 minutes. Add spinach and pesto. Cook, stirring, for 2 minutes or until spinach just wilts. Add pasta to pan with tuna (undrained). Season with salt and pepper. Toss gently to combine.
3. Spoon mixture into a ceramic baking dish. Top with cheese. Bake for 20 minutes or until cheese is melted and golden. Stand for 5 minutes before serving.