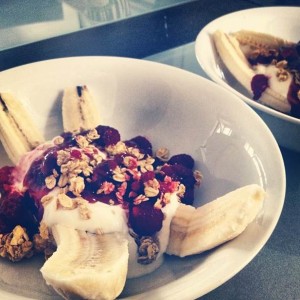 This breakfast/dessert idea is so simple a recipe is hardly needed. Here's how it was done anyway.
Serves 1
1 ripe banana, peeled
1/2 cup Greek yogurt
2 tablespoons fruit jam or preserves
2 tablespoons sliced almonds or other nuts OR granola as is in the photo
1/4 cup fresh berries or other fresh fruit
Split the banana lengthwise and lay the two halves in a shallow bowl. Scoop out the yogurt and put it on top of the banana. Warm the jam in the microwave for 15 to 30 seconds or until it is very runny.
Use a spoon to drizzle the jam over the yogurt, and sprinkle the granola/nuts over everything. Top with raspberries/blueberries and dig in!