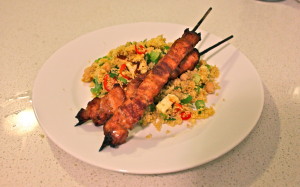 Kebabs, couscous, haloumi, and chilli. Four things I love! An easy recipe with a good amount of protein and flavour which doesn't keep you in the kitchen for very long. Check it out below.
—
For the Couscous salad:
Method:
1. Bring stock to boil in a saucepan over high heat. Place couscous in a large bowl and pour the boiling stock over. Stir through with a fork. Leave covered for 5 minutes and stir through with a fork again to separate the grains.
2. Cut up haloumi into smaller pieces. Heat saucepan with oil over medium heat, and add haloumi. Cook for approximately 1-2 minutes each side or until golden brown.
3. Add haloumi to couscous along with spring onions, chilli, and chickpeas.
4. Make the dressing: whisk lemon rind, 1/4 cup lemon juice, paprika and oil in a bowl until properly combined.
5. Pour dressing over salad. Serve!
For the chicken kebabs:
Method:
1. Preheat a BBQ or pan on medium high, cook the kebabs while turning until properly cooked through.
2. Serve!