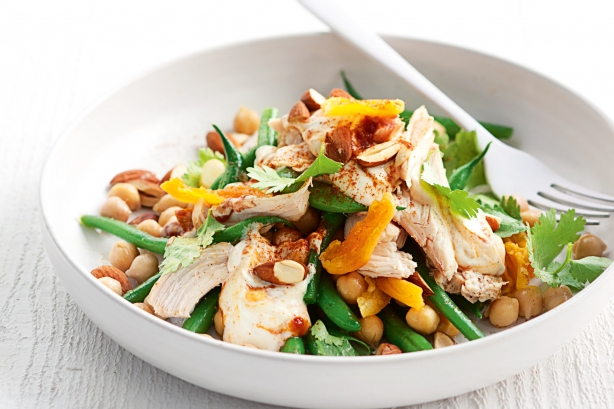 Another gem from taste.com.au, we cooked this earlier this month for a light lunch and it was a real success! Great to add some fibre in the form of legumes to a simple salad dish like this.
Ingredients:
Method:
1. Place chicken in a pan and add enough water to cover. Bring the to boil over medium-high heat, then cover and remove from heat. Stand for 30 minutes or until cooked through. Drain, then shred chicken into bite-sized pieces.
2.Toss beans, chickpeas, coriander and oil together, then season and divide among 4 plates. Drain apricots and chop into small pieces, then scatter over salad with chicken and almonds.
3. Swirl the harissa, honey, cinnamon and cumin through the yoghurt, then spoon over the salad. Dust with paprika to serve.