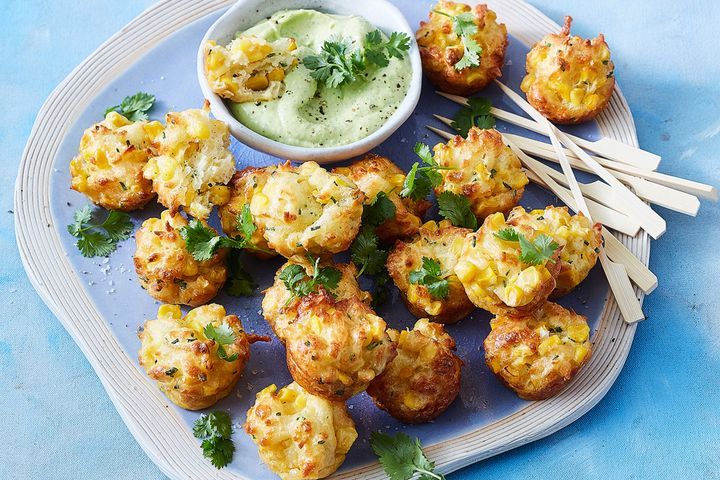 Ingredients:
225g block haloumi cheese, grated
420g can corn kernels, drained, rinsed
2 eggs
1/3 cup self-raising flour
1 teaspoon finely grated lemon rind
2 tablespoons chopped fresh chives
1 avocado, chopped
1/4 cup plain Greek-style yoghurt
1 tablespoon lemon juice
2 tablespoons chopped fresh coriander leaves, plus extra leaves to serve
1 teaspoon garlic powder
Method:
Preheat oven to 220C/200C fan-forced. Place 1/2 teaspoon oil in each hole of a 24-hole (1 1/2-tablespoon-capacity) mini muffin pan. Place in oven for 5 minutes to heat up.
Meanwhile, combine haloumi, corn, egg, flour, lemon rind and chives in a bowl.
Divide mixture among prepared holes. Bake for 10 to 12 minutes or until golden and crisp. Stand in pans for 2 minutes. Turn out onto a wire rack.
Meanwhile, process avocado, yoghurt, lemon juice, coriander and garlic powder until smooth.
Sprinkle bites with extra coriander. Serve with avocado dip.
Thanks to taste.com.au – original page is here.